The Chip Hatchery
The Chip HatcheryTM blog covers trends and musings about semiconductor marketing, business issues, startups and investing. The expert contributors to this blog will come from the ranks of senior semiconductor industry thought leaders with deep experience (at least 20+ years in the chip industry). One thing is certain in the chip industry: executives often have to make decisions quickly without having all the information available. One's batting average improves with industry experience, i.e., the ability to make sound judgment decisions. Call it informed intuition -- in the chip industry, experience counts heavily as a determinant for success
Since InsideChips is based in the Pacific Northwest, we though it would apropos to name the blog, The Chip HatcheryTM, a take-off on fish hatchery. Both commercial fishing and starting chip companies demand deep experience to avoid "sinking the ship," dealing with risks and uncertainties, flexibility to change plans at the last minute, courage and daring, being able to forecast periods of "bad weather," having a passionate zeal to succeed, hard work with long hours, and some luck. If you would like to comment to any post, please submit using our contact form.


---
Thursday, Jan 06, 2011
The Big Picture: Stock Prices, Dividend Yields, Bond Yields
Posted By Steve Szirom
Gentleman and ladies, watch your yields...the chart below shows the big picture. There is a lot of "noise" about the economy and markets. However, charts tell the tale.
At the current skimpy 1.76% yield of the S&P500 stocks, I am not in favor of long-term stock holdings. The last great bull market started in early 1980s when these same yields were 6%+.
Yes, money is to be made in the buying at the right time when there are values out there (think 6% to 7% yields of S&P500). Trading OK for some, long term holding, no for all. That is the InsideChips wisdom currently. Note that the bull run from early 1980s (S&P500 divident yield 6.3%) to 2001 (S&P dividend yield 1.2%).
For large scale chart, click here.
We are also at near historic low bond interest rates...in my book, risky to hold longer-term bonds as eventually yields will go up.
Thursday, Jan 06, 2011 04:40
Permalink
Sunday, Sep 20, 2009
Semiconductor IPOs: Poor Performance over the Past Five Years
Posted By Steve Szirom
The chart shows the performance of semiconductor sector IPOs since their start of trading. Since InsideChips began tracking semiconductor IPO performance on January 1, 2005, only two companies, Hittite Microwave (HITT) and Cavium Networks (CAVM) fared well for investors who purchased the stock at the opening price.
PixelPlus, a Korean supplier of CMOS image sensor and imaging ASICs, went public in December 2005 but was de-listed due to its financial condition. Qimonda, a memory spin-off from Infineon, went public in August 2006 but entered insolvency proceedings earlier this year. Saifun Semiconductors, an Israeli non-volatile memory IP provider, was acquired by Spansion (SPSN), a Japanese pure-play provider of Flash memory solutions. Spansion itself, which went public in December 2005, is mired in financial difficulties and is last on the performance listiing.
For now the IPO window is closed for semiconductor companies. If the current rally in semiconductors continues, we may see a few companies try to go public within the next two quarters. The last semiconductor-related IPO was by MEMSIC (MEMS) (Dec. 2007). For now, the exit strategies of 800+ venture capital backed semiconductor firms which are tracked by InsideChips must rely on the merger or acquisition route. Even there, valuations for a typical deal are in the $50 to $100 million range compared to $400 million during the industry's better days
Sunday, Sep 20, 2009 10:14
Permalink
Friday, Sep 18, 2009
Semiconductor Industry Rebound: Is It Long Term?
Posted By Steve Szirom
As the Q1 and Q2 2009 financial report cards rolled in, it was clear that there were signs of optimism for the chip industry as companies were starting to guide up their projected performance. I would characterize the current scenario as one of industry stabilization -- the industry has stopped contracting. Has a long term stock price uptrend started? My gut feels says no...not yet, anyway. In the short-term, however, I am going with the trend until it breaks down ... very cautious at this point.
While the supply chain has tightened, excess inventory has been worked off, and capacity utilization has increased, there is still an issue in my mind of the macro-economic situation which now affects the chip industry in a fundamental way since a large part of the industry's revenues are derived from consumer purchases of electronics-related products.
click to enlarge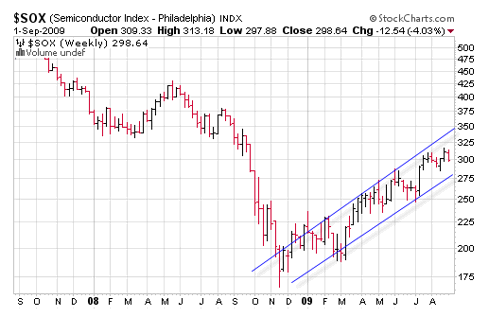 The SOX Philadelphia Semiconductor Index (SOX) chart shows a vibrant and steady recovery since reaching lows of 175 in November 2008. Since then SOX has followed a 75-point channel. If the index moves below the channel in the future, it would signify a period of weakness in semiconductor issues for the short-term at the minimum, in my view.
The semiconductor group along the broader based technology stocks has led the rally which began in March 2009. In the last 12 months, SOX gained 50% while the broad DJIA gained 11% in relative terms.
Another metric which I use as an input to time my exit is InsideChips' Semiconductor Advance-Decline Indicator. This indicator is based on the daily advances and declines of 111 chip stocks (excluding equipment makers). Since early 2007, this indicator showed a steady downward trend. Since the beginning of this year, the tone of this indicator changed with a bottom forming and now showing a moderate uptrend. If the slope of this A/D line is up and the market is trending upward as it is now, then the market is healthy.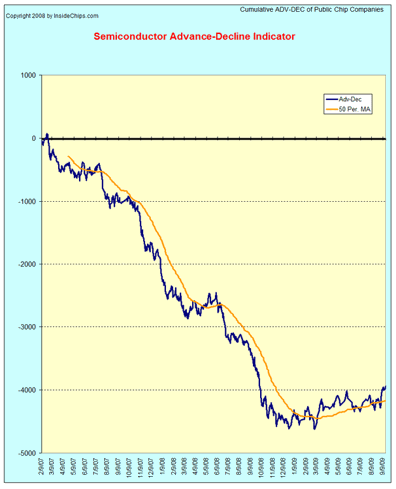 I will update this article when I see a change of direction in the indicator.
Friday, Sep 18, 2009 10:19
Permalink
Saturday, Jun 06, 2009
The Economy: A View from InsideChips' Founder
Posted By Steve Szirom
I don't know how to get around this big obstacle: the horizon shows nothing but deficits as far as the eye can see. The present rise in long-term rates, i.e., drop in 30-year Treasury bonds, is partially a repudiation of the Fed's ability to control the long end of the curve in treasuries and mortgage rates. The Fed with all its muscle is not strong enough to do this, so once the emotional shock of their buying program dissipated, the curve steepened, pushed by hedging in the residential mortgage market, once the move became great enough.
| | |
| --- | --- |
| | |
The chart in Figure 1 shows the trouble brewing in the bond market. Note that the 50-day moving average of the 30-Year US Treasury Bond Price Index sank below the 200-day average. The 30-year T-Bond sank dropped like a rock to a new low today. This is bad news for housing mortgage rates. The Fed has been trying, not very successfully, to drive long bond rates down to alleviate the pain in the housing market. Treasury bond investors are looking at massive auctions of Treasuries in the months directly ahead to finance the out-of-control deficit, and they are wondering who's going to buy all these bonds? So, in my view, in the next quarters ahead look for increasing mortgage rates as a second wave of loan resets come into play along with a highly-stressed commercial real-estate market.
| | |
| --- | --- |
| | |
In Figure 2, we see a three year chart of the same index. In Q4, 2008, the index spiked up, driving rates down as investors were fleeing to a safe haven as the USA financial system came close to meltdown. In came the Fed, Treasury Secretary Paulson, and lame-duck Bush administration with a plan to try to halt asset deflation and to "save" the financial system by not letting the biggest financial institutions fail and underwriting various efforts to lubricate the frozen credit markets. The rush to save them was made without regard to how they mishandled their own dealings.
Then came the new Obama administration in Q1 2009 with its plans to socialize banks and even major car markers. The new presidential team are going to add trillions of dollars to the USA public debt, which is going to go from 40 to 80% of the GDP. The new administration's spending plan is simply spectacular and mind-numbing -- $13 trillion has been pledged. This amount is equivalent to a full year's annual output of the United States of America. The government's response is 3 times more (adjusted to today's dollars) than the U.S. spent to fight WWII. It is 12 times more (relative to GDP) than the total committed to bring us out of Great Depression. The Fed and Ben Bernanke is staking his reputation that on the theory that these trillions of dollars in new money -- created out of thin air -- can turn around asset deflation.
There are only a few ways in which you can finance that extra public debt. If you rule out default and a capital levy on wealth, you either have the "inflation tax" or you have to painfully cut spending or raise taxes, and either one is not going to be politically popular.
Figure 2 shows what happened to the long term bonds in Q1 2009 as a result of historically massive spending commitments. Perhaps that is why Fed Chairman Bernanke said "Either cuts in spending or increases in taxes will be necessary to stabilize the fiscal situation…The Federal Reserve will not monetize the debt." Bernanke's recent comments indicated that the central bank sees risks of a relapse into financial turmoil even as credit markets show signs of stability. He said the Fed won't finance government spending over the long term, while warning that the financial industry remains under stress and the credit crunch continues to limit consumer spending.
China's reaction to all this is that they don't like it. On his recent China trip, Treasury Secretary Geithner has been getting a tongue lashing from Chinese officials regarding their worries about the dollar and their treasury investments.
For the near future, China has limited options. If they stop accumulating dollars and reserves, their currency would appreciate sharply while their exports are plunging. So in the short run, they are going to keep buying US T-bonds. However, the Chinese launched a number of new initiatives in the last month that suggest they are pushing for the Yuan to become an international currency and a reserve currency. They are doing bilateral deals with countries like Argentina and half a dozen others in Yuan, not in dollars.
The wild card in the dollar's future is the possible loss of its reserve status. From a Chinese viewpoint, the challenge is how to get rid of dollars without collapsing the dollar. China's long-range plan may be to make the Yuan the world's leading (reserve) currency without directly confronting the U.S., i.e., to become the world's leader via economics and without a war. Their possible plan may be make the Yuan convertible and the world's international trading currency; back the Yuan with a percentage of gold, and make it convertible with gold as the U.S. was before 1933.
China held about $768 billion of Treasuries as of March, according to U.S. government data. China is the largest foreign holder of U.S. government debt, which so far this year has handed investors the worst loss since at least 1977 on forecasts for ballooning federal budget deficits. The US will be auctioning trillions of dollars of Treasury bonds in the coming months, and we depend on China to buy a goodly portion of those bonds.
The U.S. Dollar Index chart shown in Figure 3, shows the value of the U.S. currency dropping precipitously in the last three months. The US Dollar Index is a measure of the value of the United States dollar relative to a basket of foreign currencies (Euro, Yen, Pound Sterling, Canadian Dollar, Swedish Krona and Swiss Franc). If the index drops below 80 in a meaningful way, it could spell serious trouble, in our view.
We're in uncharted waters, so in whatever role you play in investing, be careful, stay flexible, be diversified. Unusual situations beget more unusual situations and we are entering into the land of unintended consequences.
Personally, here is how my current strategy plan lines up in these uncertain times (2-3 years out):
Prepare portfolio for inflation down the road as the massive deficit spending and loose money sloshes through the system.
Reduce and eliminate debt as much as possible.
Hold off on real estate investments as future mortgage rate increases will stall housing recovery.
Take a position in "real" technology investments as they are productivity enhancing; technology will help to counter the effects of the recession.
Take a position in alternative energy investments with assumption that administration will be funding this area in a big way; it will the help the U.S.A. become less dependent of foreign energy sources.
Stay away from long-term bonds and similar instruments as massive deficit funding requirements will drive up long-term rates.
Become more self-sufficient in all areas of life, reduce unnecessary expenses
Allocate time for learning new skills, gain more knowledge; the more informed, the better.
Communicate with your elected representatives to simplify the tax code, halt bailouts, reduce spending, reduce taxes.
Fine tune lifestyle for healthier living to minimize health care expenses; become more active and knowledgeable in health care decisions, question costs even if insurance pays.
Steve Szirom

Saturday, Jun 06, 2009 09:16
Permalink
Monday, Apr 13, 2009
Embedded Systems Conference (ESC) 2009, Attendance Down, but Discussions Spirited
Posted By Steve Szirom
| | |
| --- | --- |
| ESC2009 | |
The Embedded Systems Conference (ESC) 2009 in San Jose, Calif. is one of the bellwether conferences in Silicon Valley where one can pick up telltale signs of the business pulse in the high-tech industry.

The first notable impression was the lack of a big banner that usually trumpets the ESC show at the entrance to the convention site. This year (March 30-April 2, 2009), the McEnery Convention Center was devoid of any sign that a major conference was underway. There were about 220 exhibitors compared to 250 last year and attendance dropped below 10,000, perhaps in the 8,000 to 9,000 visitor range. Attendance in recent past years was in the 10,000 to 12,000 range. Prominent exhibitors of the past such as Intel and Wind River Systems were absent, although WindRiver was on the speaker roster and booked a hotel suite for meetings.
| | |
| --- | --- |
| ESC2007 | |
| | |
| --- | --- |
| ESC2008 | |
The CMP-backed ESC event was very well organized and widely promoted. The event drew a relatively enthusiastic crowd considering the economic storm facing the industry. From spot discussions by InsideChips with show exhibitors, the response was mixed -- some were disappointed with the lower attendee flow and others noted satisfactory numbers with better quality prospects this year.
CMP, which runs smaller ESC conferences in Boston, England, India, and France, looks at the ESC show and conference as one of its flagship events and has done a creditable job in keeping the event innovative and well-designed. From the public relations, website design and promotion viewpoints, CMP organizers get high marks.
| | |
| --- | --- |
| Source: InsideChips | |
As the world turns in the embedded world, the embedded design-in action is happening more and more in Asia, not in Silicon Valley, and Japan is a gateway to this growing market. As noted from the chart below, the world's most embedded-centric electronics event takes place in Yokohama, Japan at the upscale Pacifico Exhibition and Conference Center every year in November. The event draws not only from Japan, but also the rest of Asia including Taiwan, China, Indonesia, Singapore, and India.
Embedded Technology 2009 (ET2009) is sponsored by JASA (Japan Embedded Systems Technology Association) and managed by ICS Convention Design, a division of Japan's largest travel agency, Japan Travel Bureau (JTB). The chart below shows the attendee growth at the Embedded Technology event.
| | |
| --- | --- |
| Source: JASA/Embedded Technology | |
For additional on ET2009 held in Yokohama (Nov. 18-20, 2009), visit www.EmbeddedTech.net
Monday, Apr 13, 2009 10:20
Permalink
Next